INGREDIENTS:
350 gr
grain linguine (pasta)
400 gr
clams
100 ml
white wine
1
clove of garlic
1
pinch of dried chili flakes
For the pesto:
100 gr
fresh spinach
80 gr
roasted and salted cashews
40 gr
parmesan cheese
1
clove of garlic
Carboncella extra virgin oil
METHOD:
Clan and wash the spinach, then blend them together with cashew nuts, garlic and parmesan. Add 200ml of extra virgin olive oil Carboncella. Cook the linguine in lightly salted water. Heat a drizzle of extra virgin olive oil in a large skillet . Add the garlic, chili pepper and let it cook for a few minutes. Pour the wine and 100ml of water. When the liquid comes to boil, add the clams and let it open for about 5 minutes on high heat. Finally, drain the pasta and pour into the pan with the clams. Add the pesto, stir vigorously everything out of fire, distribute on 4 plates and serve immediately.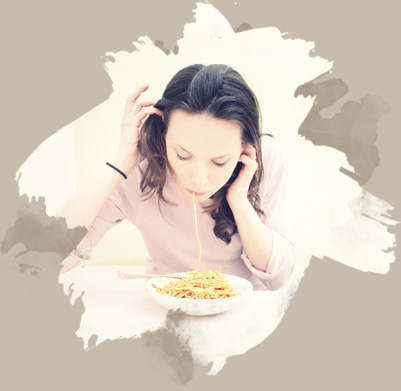 My name is Sigrid, I'm Belgian, I'm 34 years old and my sign of the Zodiac is balance ascending balance. I'm of Flemish origins and French (later Roman) adoption. I have a degree in letters, an MA in philosophy and a master degree in eno-gastronomic communication and an unbridled passion for sailor sweaters. I live in Rome since 2004. Ever since I remember I have always compulsively written… in notebooks, on literary magazines and even on Le Soir. In Rome I cultivated other passions such as food, and, expecially, photography. After spending two years at the Gambero Rosso, now, in some years, I work independently as a photographer and as aculinary author (seven books published), in Italy and in France. In 2011 I had a daughter named Lena. In addition to cooking, looking for accessories and taking pictures, I like reading, crocheting and sewing crazy dresses for my daughter, but more than anything I love the smell of dawn in the spring.